FLORAL TEACHER
Sarah has been teaching and innovating Floral Art for the past 19 years, with a constant fuel to exceed and redefine all expectations, including her own. Instead of living a life with all the wonderful knowledge to herself and creating a generation of eager artist that hungrily competes with one another, the founder of Poppy wish to foster a community of Creative Floral Enthusiasts.
In the world of florals, Sarah is regarded as one of the masters of nature-inspired design. Her style is not only aesthetically beautiful and artistic; it is always with intent to inspire.
She has been on several floral exchange programs in Australia, Atlanta, Indonesia and Hong Kong and her floral pieces have been featured in publications such as Magnolia Rouge, Once Wed, Style Wedding, The Wedding Scoop, Her World Brides, Female Brides, Harpers Bazaar, Home and Decor & The Straits Time.
We'd like to open doors to our home – This Flower Haus, located at 9A Dempsey Road. Come unwind with us on Flower Fridays' evenings, from 7pm to 9pm. Get inspired and refreshed with florals. Nestled in the lush green forest, we will create floral pieces that synergise with the surreal environment. Bring home not only the lovely number you've made, and also the learning experience of how to be one with nature.
—
Class will start when there's a minimum of 4 participants. Otherwise, class will be postponed. Each session, from 7pm to 9pm.
Choose your session(s):
4 Oct – Hand Tie Bouquet
11 Oct – Vase Arrangement
1 Nov – Elegant Table Arrangement with light bites & champagne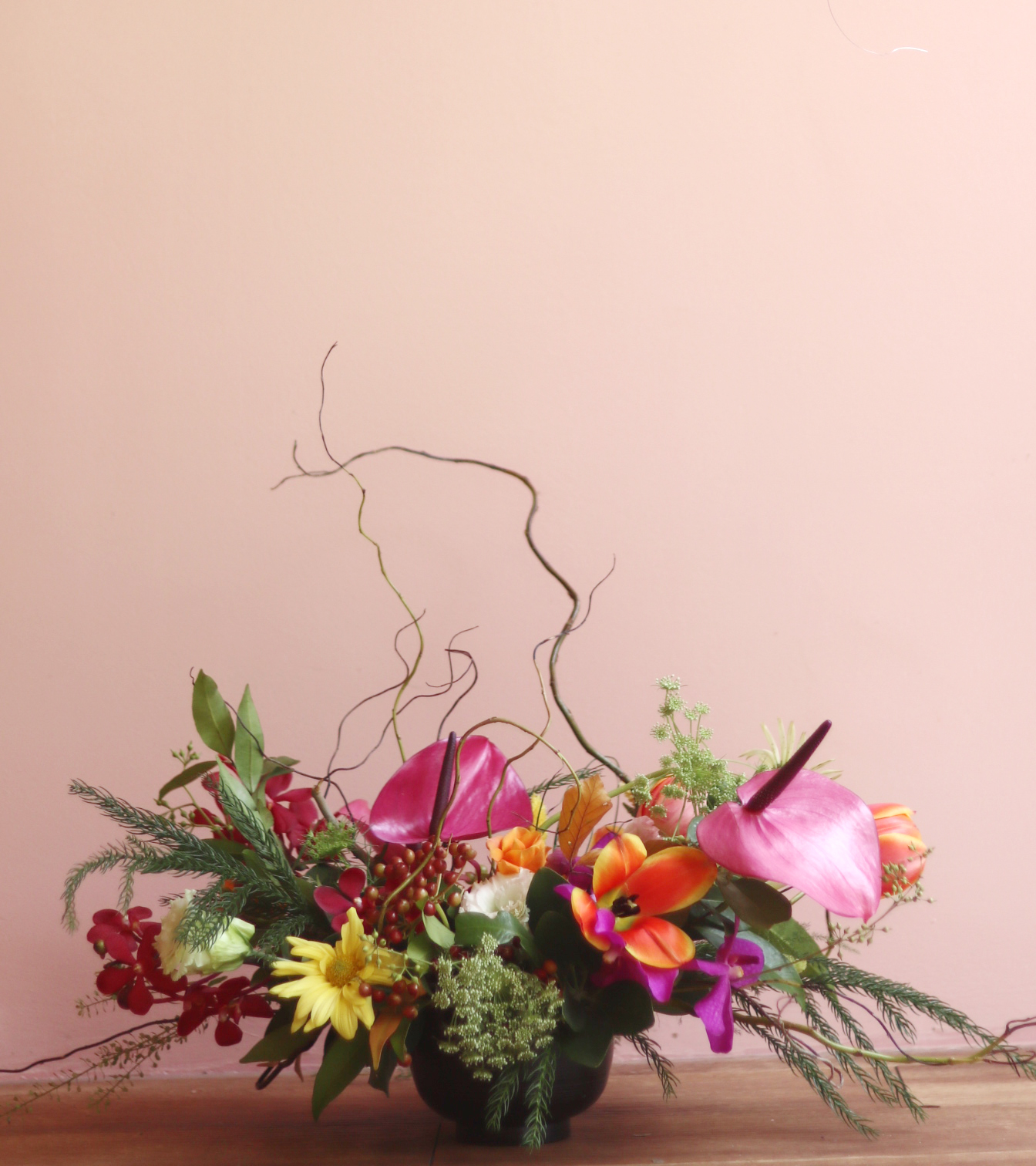 Foundation Class in Floral Design
Our foundation classes cover the basic art of floral design specifically for those flower lovers and those driven by flowers and are interested in staying connected to your artistic heart through the medium of flowers.
We work to take fear away from you and empower you to get in touch with your floral intuition so that you can take the leap and pursue your love of flowers.
—
Each day/session – 11am to 1pm OR 2pm to 4pm
Choose your class(es):
• A Focus on Centrepieces (2 Days)
• All about Bouquets (3 Days)
• Let's dance with Florals (3 Days)
• Bundle Special (8 Days)
Seasonal Floral Class,
1:1 with Sarah
Sarah Poppy invites you into her stunning POPPY Classroom for an intimate 1-on-1 class catered for you, and just you.
You'll have Sarah working along side with you, experiencing in the floristry subjects that excite and inspire you most. You will have you hands and your eyes and your being to all the breathtaking seasonal best you would expect of POPPY.
Let's focus on your flora dreams and make discoveries along the way to define and refine your journey – discuss all the burning questions you have always wondered about, and ask away all the questions you've been waiting to ask.
This 1-on-1 class is an artistic, intentional and inspirational special learning experience that will help you discover more and practice more on your floristry journey. Not forgetting it is fun and enjoyable. You will take away tips, strategies and knowledge to better understand and navigate your flower cosmos and Sarah can't wait to create with you.
—
Each day/session – 11am to 1pm OR 2pm to 4pm

Choose your class(es):
• Seasonal Floral Class (3 Days)
• Seasonal Floral Class (5 Days)
Intensive Floral Artistry


A progression from our Foundation Class in Floral Design, the Intensive Floral Artistry offers an in-depth approach and education of Poppy's floral philosophy, design and execution. We are here in this class to create not only a floral designer in you but a big hearted creative who could find a fulfilling career and sustainable business in our medium of flowers.
In our sessions, guided by Sarah, you will be taught practical techniques, skills and strategy. A great deal of the practices will help train your eyes, practise your confidence and develop you into big hearted creatives instead of dwell in fear and comparison. We want to work with you to help you unveil your very own voice and to make that definition and refinement that speaks you.
—
Each day/session – 11am to 2pm OR 2pm to 5pm
Choose your intensive(s):
• Immerse in Nature (3 Days)
• Foster Your Creativity (3 Days)
• Large Scale Installation (3 Days)
• Bundle Special (9 Days)

Discover the wanderings and beauty of nature by drawing and painting them. Our course help to provide a deeper connection and of botanicals and of drawing, watercolour techniques, brushworks, colour mixing, tonal values etc.
Is about defining and refining your aesthetics and discover the artist in you. Our guests will discover and study a new flower or leaf with new eyes for nature and its beauty.
Our classes are for adults and young art lovers with no prior training. And allowing our guests to practise their art on a progressive basis. The courses are designed for beginners and also art-nature enthusiasts. You will be taught how to observe, sketch and paint a variety of leaves and flowers.